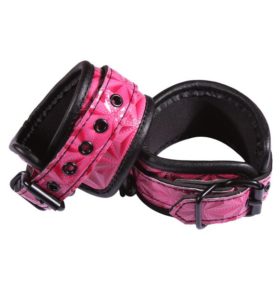 If you have ever flirted with the idea of sexual restraint, but don't quite know what you want or how far you may want to go, I have an easy answer for you.  The Sinful line from NS Novelties is peerless for beginners, easy-going players, and great for straight up fashion.  From liner to D-rings, they were made with economy and versatility in mind.  They won't give you the seductive scent of leather, but there is a great deal they do bring to the table.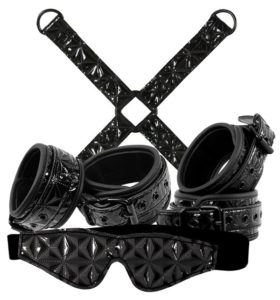 As I mentioned, you would be hard pressed to find an easier starting point for a first foray into restraint. Sinful in more than just inexpensive, it's built for comfort, flexibility, and visual appeal. The base is thick neoprene with an outer shell of vinyl. The softness of the neoprene, shored up by the thin, but firmer vinyl provides flexibility and comfort while letting each piece hold its shape. Factor in the nickle-free metal fittings and the whole brand is completely free of any animal product and common allergens (I do love accessibility). They wipe clean with a cloth and water and don't require any special care like oil or conditioner. All pieces in the line unclip, allowing the user to configure them however suits the need. You won't find advanced gear, no suspension cuffs of humblers in sight, but there is more than enough to get your feet wet and start learning where you want to go.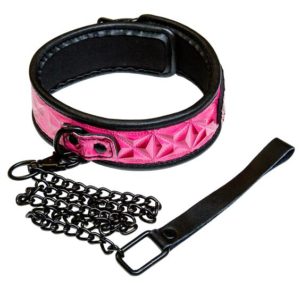 Now, say you admire the gear for fashion, but don't want to play. Or maybe you do play, but want a simpler set to wear out and about. Sinful is still a great answer. The light-weight and easy-care materials let you make that statement in total comfort. Trust me, cleaning clubbing sweat off of neoprene is a lot easier than attempting to launder actual leather. The fact that they are very aesthetically pleasing helps drive that home.