This week, I want to take a closer look at the Scandal Pegging Panty, from Cal Exotic.  I will freely admit, this style is not my personal go-to, but even a person as opinionated as myself can see the obvious benefits it offers.
What does the full panty style have going for it in general? People that are nervous of straps or buckles will be set immediately at ease. It's easy on-easy off with no adjustments to make.  Another big plus to full-coverage harnesses is the extra support offered to any toy that one might tuck into place for the driver. There is no way your Venus Butterfly will slide out of place with a full panty holding it against you. There is also the unique paradox that, while wearing a panty style harness, one can engage in full intercourse while remaining fully clothed. True, any of our existing brief-style harnesses would boast these same benefits, the Pegging Panty does it while remaining uncompromisingly femme.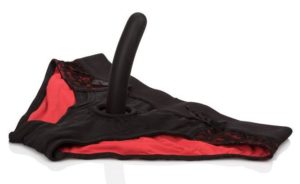 So, what does Pegging Panty have going on specifically? The first thing that caught my attention is the construction. These are carefully crafted and finished with a close eye to detail. I am not just talking about the clean hemming and ribbon detail, the actual mechanics go the extra mile. If you look at the fly, where the harness is inserted, you will note two alternating flaps instead of one. This layout closes like an envelope around the base of your dong, to hold it doubly secure in its place. Another sizable bonus is the fact it is fully machine washable with no parts to remove or worry over. Really, you can just toss it in the washer. To add that extra dollop of icing, the Pegging Panty includes a starter size silicone dong and has a 90 day warranty.