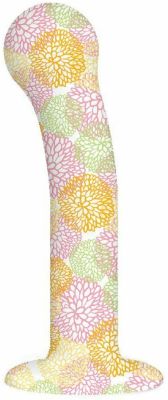 Friday Focus: 07.31.20
This week is pure self indulgence and I regret no part of it. Today I am going to hold up the Icon Brands, Collage line because every piece is beautiful and I want to talk about them. Why? I love pretty things, I love functional simplicity, and I get really excited to have both at once. In my mind, there is a unique beauty to be found in a well made non-vibrating silicone insertion toy. Simplistic function allows the details of construction to truly shine. The Collage Collection from Icon Brands takes this idea of a universal basic and gives it a fresh breath of life.
The most obvious asset that the Collage toys have is the fact that they are very pretty. Looks alone are not enough to elevate a toy, but if you pair good looks with solid function no one is going to complain. The entire Collage line are crafted of a solid medium-firm silicone, the perfect pick for ease of insertion and conveying variance of shape and texture when in use. The shapes vary a great deal, one to the next, but they are all roughly seven inches in length and come with a wide round base to accommodate either harness or anal play. The base is a functional suction cup as well, though it is not the strongest in that respect. To put hearts and minds at ease, Icon makes a point of assuring that the dyes used in creating their unique looks are food grade and bio-compatible. The line also happens to be well priced for their size and density, but that it pure icing. Those statements made, what selections from this collection are on our walls today?
Catch the Bouquet: This style is the classic G-hunter. It has the same length as the others, but the generously sized swell at the tip is where the action it.. The long shaft gives plenty of room to thrust and no Grafenberg or prostate would be safe from that bulb end. This one would shine especially brightly in harness play, no matter the anatomical configuration of the Passenger.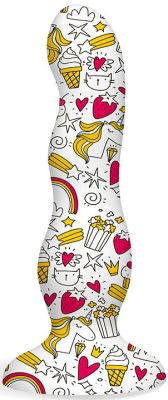 Iron Rose and Goth Girl: This pair shares a shape and are the closest to representational that this collection has to offer. There is a distinctly phallic head, but the shaft is a decadent wide spiral all the way down. I have mentioned before that I find a wide spiral to offer the best sensation to maintenance balance and this shape is an ideal example of that principal.
Cupcakes and Unicorns: This last is arguably the cutest. The shape is something of a hybrid of the previous two. It has a hint of a G-hunting bend with a broad tip and that shape is echoed in the wide wave-like swells that run from tip to base. This one would also be lovely in a harness, though the ride would give a great deal more intense for the Passenger.