Sometimes you want to go old school.  Even so, no one wants to give up modern advancement. It is for this sort of need that we have tools like the Luxe Marco from Blush. In one simple box you are going to find a near perfect mix of classic and modern toy making.  This is demonstrated from the overall shape to the protection of a manufacturer warranty.

The sculpt and styling is deeply suggestive of anatomy without being explicit. In fact, it is easily one of the best "middle ground" sculpts I have ever seen. It is a penis, no doubt, but the details are smoothed into an hazy softcore fantasy. The bright silicone chosen for the body adds to that distance from reality.  That silicone is, by the way, the same lovely velvet silicone that Blush always brings to the table. As always, silicone is a breeze to clean, body friendly, and a joy to touch. Speaking for size, the overall dimensions are pleasantly girthy with nearly six insertable inches.  Among similar items, in material and price, Marco is easily among the largest we have on display.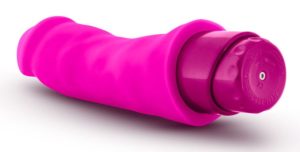 In function, Marco has the best aspects of a classic vibe. The motor runs off standard AA batteries, easy to find and simple to replace. The motor is a good enough quality that one could swap out for rechargeable batteries to get the best of both worlds. Best of all, however, is the smooth analog speed dial at the base. No fussy patterns, no flashing lights, just a smooth intuitive twist to turn it on and ramp it up. The power output comes with a deeply satisfying rumble, as well. Top that off with a design that is submersible up to three feet and a manufacturer warranty that lasts five years and you have the full package.