Friday Focus: 01.31.20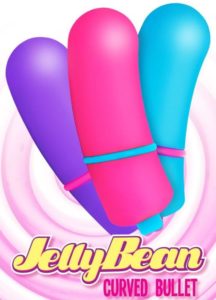 Bullet vibes; they are simple, easy, travel well, and add a bit of interest to any number of intimate activities. If the objective is external, a bullet vibe will probably fit the bill. Today is not about bullets in general. Today is about the Rock Candy, Jelly Bean in specific. They may not be as exciting as the Pure Wand or Rave, but there are definitely attributes to be explored.
First of all, it's cute. Not just the vibe, either, the packaging is appealing. No body parts, no awkward text, no brash claims, just fun colors and an approachable candy theme. That alone makes it a great match for someone that may be nervous about toys, or is buying for another person (think Our First Valentine's Day or something similar). I have trouble imagining someone being intimidated or put off by by the image cultivated here. The actual toy is every bit as appealing. It's all bright colors with a pop of contrast. The controls are easy too, a single push button. There is not a long to wade through with the controls either, just three speeds and one pattern before you round back to the start. It does take watch batteries (not my favorite), but I am willing to overlook that with the appealing presentation and ease of operation.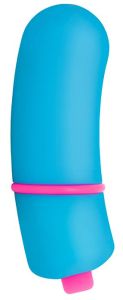 We have established that Jelly Bean is great in a gift basket or as a first timer pocket vibe for someone that is shy. It has one more trick, the shape. To start, it's a bit bigger than your average battery powered bullet. It also has a subtle curve, much like the treat that is its namesake. While that won't make a difference for every person, that curl can make a big difference in getting a secure grip. This is especially true when combined with the slightly increased size. As my left hand is not always reliable, I am always excited about mobility accommodations. More than that, though, the shape lends itself to several specialized uses. Cup it around testicles, use the shape to hug around a clit, hold the curve against your throat to add depth to oral adventures. Those are just off the very top of my head.
So, there you are! Jelly Bean won't move mountains, but every little bit makes a difference. If you find yourself wanting something both basic and fun (or need a present for someone a bit shy), this one might be your answer.