Sometimes you need a smaller toy. Something sized to hide in a hand, tuck in a pocket, or slide between bodies for coupled adventures. Luxe Compact Vibes from NS Novelties,  absolutely fit this niche. All three models are covered in satiny silicone over an ABS core; nonporous, body safe, and easy to maintain. The line has three textures to choose from, though they all have the same motor on the inside.  They also have the convenience being fully rechargeable.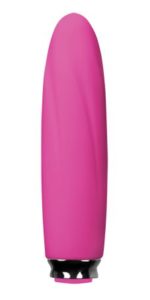 Electra: A barely-there swirl is the only texture this model offers, aside from the natural satin glide that the silicone itself has to offer.  Perfect for a no frills encounter, with the addition of a silicone cushion.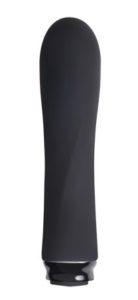 Scarlet: Also minimal on texture, Princess swells to a subtle bulb at the tip.  An ideal choice for the person that likes direct clitoral stimulation, but would rather have a little more surface contact over a bullet-point touch.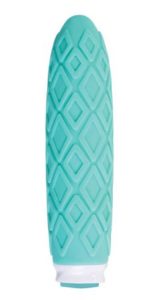 Princess:  This one is all about texture.  The entirety of Princess' silicone skin is an elaborate diamond pattern with both raised and recessed aspects.  The line in a bit small for much in the way of penetration, but that textured finish is lovely when drawn across skin.
Now that you've seen the outside, what is on the inside?  The shared motor, this line has punch. More than enough rumble to be felt right through the silicone skin and penetrate a surprising amount. The single button controls are simplicity defined. Press-&-hold for On/Off and quick press to change function. There are a mix of speeds and pulse patterns programmed in. I have never been a fan of vibe patterns, but this is not true for Luxe Compact. The patterns are solid pulses and escalations with, most importantly, no long dead spaces that can interrupt an otherwise good time. The functionality of the charger is another highlight. The cord connects magnetically, but it does not disconnect with bumps or brushes. To be honest, it won't even disconnect if you hang it by the cord, full weight of the toy suspended. (What can I say, I was curious to see what would happen.) It is also fully submersible, offering a friend for the hot tub and the guarantee worry free cleaning.