The truth is, this isn't an educational review.  What I am doing is waving a flag over a collection of items that offers a lot of things to a lot of people. This week, we are looking at the newly released We-Vibe Anniversary Kit.  Beside the limited color release, you have a Sync, Tango, and a very clever storage case.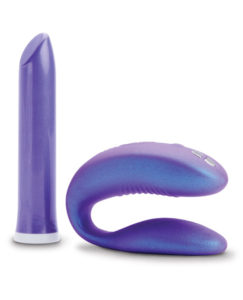 The Sync. We-vibe is well knows for the constant evolution of their product and Sync is a text book example of this dedication. It is, without argument, the most adjustable iteration to date. It doesn't just rely of the firmness of the silicone and natural pelvic curve, it has an actual skeletal structure, complete with two joints to customize fit to the widest array of bodies possible. Nothing will fit everyone, but Sync makes a brilliant effort. Under the skin, you will also find two motors, a Tango motor on the external arm with a milder secondary motor for the internal arm.  To control the toy, you have three options; on toy control, included remote, or the We-Vibe app (in person or long distance).
The Tango. Everyone knows Tango. This finger sized vibe broke serious ground in the world of compact vibrators. While I have seen a few items stronger, they are very very few (I can only think of one off the top of my head). The ABS that houses this pioneer of vibes is body safe low maintenance ABS. No cushion to speak of, but some people like it a little extra intense.  Like the Sync, the Tango is fully waterproof.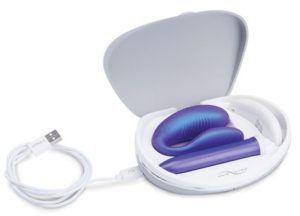 Play Case. This case makes the kit. Finally, a storage add-on that is a truly safe and secure place to both charge and store. Just the thought of charging a toy in dust-free-and-cat-fur-free safety makes me feel giddy.  And I am not talking it has convenient holes in it for cords to pass, though.  One cord plugs into the case itself and it charges the toys via induction.  A rather large part of me wishes this case was sold as a stand alone.