Here is the thing; Moto Bator is a sex machine that you can lift with one hand. When cut down to the nails, that's what we are looking at here. I can't even use it first hand, and I am still enraptured watching this thing go. In honor of this fact, I want to hold it up and extol its virtues.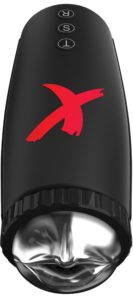 The Pipedream, Motor Bator is built on the premise of dual stimulation for people with a penis. With the touch of a few buttons you can combine variable suction with two speeds of thrust. That sounds simple, but when you have it in your hands, there is a whole lot going on. As with any other multi function toy, everything at once isn't always what you want. The suction and thrust are independently controlled. The three buttons down the side tell the whole story and keep it simple for anyone, no matter how distracted the user may become. T, S, and R control the thrust, suction, and release. The user is free to chose between functions, or combine them, as the mood strikes.
The sleeve inside the machine, by contrast, is pure simplicity. Soft overall and heavily textured on the inside, the sleeve comes free easily. Unscrew the ring at the top, and it slides right out. This is important because you can use it as a hand-held masturbation sleeve (no one is always in the mood to hear a motor rumble) or take it into the sink to clean it with ease.