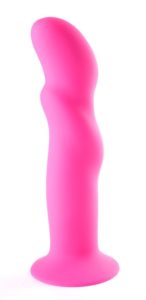 When it comes to harness compatible dongs, you see a lot of two things; non-representational that are petite and representational dongs that are large. Why this became and industry standard, I am not certain, but so it is. Riley and Kendal, from Maia Toys, break this pattern. They are both sizable and don't look like a body part. It's a good thing to have some extra reach with a strap on, and not everyone wants to have a realistic penis.  Not that all they have is length (over seven inches of it), these designs have a bit of girth as well as texture.  Kendal offers a thick spiral that climbs most of the shaft.  Riley is a bit more subtle, boasting a ring just under the head and a bit of a tilt at the tip to assist in g-spot or prostate play. As an added bonus, the same flared base that makes them harness compatible also makes them completely anal safe and serves as a fairly solid suction-cup anchor.  It's nice to have options.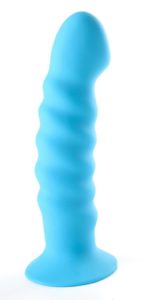 The main reason I chose them, though, was a by product of design that became something grand. The best toys are cast in silicone and Maia knows this. The silicone they chose here is very, very, dense. Dense silicone has the benefit of being extra durable.  It also transmits vibration super well, should you choose pair it with a vibrating ring.  The downside is that silicone this firm doesn't have a lot of play and can be awkward to use in a harness.  If you turn Riley or Kendal upside-down, you'll see a welded plug with the Maia logo. Originally designed to house motors, the outer shaft is hollow.  Rather than recasting the shapes in solid silicone, that empty space was kept in the mold and was wedded together with separate silicone plug inside of the shaft. This pairing allows the independent parts to move with just enough independence to give a flexibility that would not be possible in a solid cast.
And that, in short, is why I am so excited by Maia's Kendal and Riley.