This week is part specific items I want to highlight  and part personal exploration of strap-on dongs in general. When is comes to penetration, you may have noticed in previous write-ups that I always use the terms Driver and Passenger. To me, it emphasizes the equality of the two roles. The Driver is at the wheel, watching the road and moving the equipment, but the Passenger is handling the map, keeping the Driver alert, and juggling the road snacks. Neither is getting anywhere without the other.  A partner is called a partner for a reason, after all.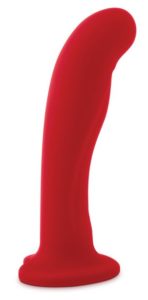 Now, I mentioned there was a product recommendation here.  My stars for the week are Bellatrix and Jezebel, both reborn into the Temptasia line from Blush Novelties. These two have been around for awhile, but the color, density, and finish have been updated along with their names.  Jezebel is slim, lightly curved, and has the adorable detail of a heart shaped base. It is perfect for beginners to penetration, on or off a harness. It's also brilliant for a warm-up or a side line to a clitoral vibrator, as the heart base is super adept at not getting in the way. Bellatrix has a bit more girth, a pronounced bulb, and more of a classic G-spotter shape. It's still small enough to be an easy on the user, but Grafenberg hunting will be quite a bit simpler.  The standard harness base can also double as a suction cup on smooth surfaces.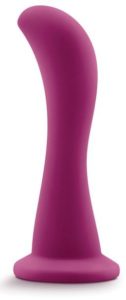 Both shapes are sleek, well proportioned for use on a partner, and are solid mid-density silicone. I give special mention to "sleek" as too much texture can be tricky when using a strap-on rig. In the hand is just fine, but driving with your hips is another process altogether. In my experience, a smoother shape can give a more organic experience for the Driver. There is enough feedback to give a feel for drag and friction, valuable when you don't have nerves in your penis and may need to reapply lubricant.  If you would rather not use a harness, the fact that they have flared bases offers another use, in that they are anal safe. The non-phallic shape they offer, now that is another thing altogether.
There is a special kind of harmony in a strap on device that doesn't look like a severed body part. Certainly, this is personal preference, but here are my reasons. First, I don't want to have to worry about matching color to my skin and the dimensions to by body. If it's gonna look like a penis, it has to look like MY penis, that that is a hassle I don't always want. Second, I don't have to worry that my partner may be averse to realistic phalli. That is a consideration to answer with both with straight men and sapphic women.  No matter what your personal needs may be, if you're looking for a small and sturdy silicone dong, Jezebel or Bellatrix might be answer.