Recently, I was asked what I thought of the Climax line Kegel balls from Topco. Little did he know he had given the green light to a verbal torrent regarding my feelings on this particular product. You see, these were the second K-balls I ever owned, my first pair in glass, and I still have them today (fifteen or so years later). I have tried many brands and styles over the years, but this is the only pair in my Regular Use box. The reasons behind their perfection is kinda short, but my love is profound and I need to share it.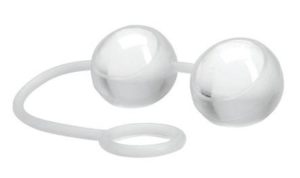 Glass and silicone are the only materials involved here. There are no frills, no textures, no chiming weights, just a minimal silicone holder and perfectly polished glass. I have tried all the extras, and they have merit, but simple functionality wins when it comes to regular use. The glass balls pop right out of the sleeve and both sleeve and spheres are washable or boilable. The fact that there aren't textures or cutwork means there is no place to harbor bacterial or catch and snag if time and wear are unkind. Aside from the silicone getting a bit cloudy with age, mine own pair remains perfect.
The function is twofold. For a pelvic floor workout, you may keep the balls in the sleeve or insert them loose. They work the way any other kegel balls would, tricking the pelvic floor into thinking you're going to drop them so the PC muscles clutch them in. Ta-da, effortless exercise. Now, balls with loose weights (the rattly kind) have an edge on that specific task, but the Climax do an admirable job. Second, the balls are small enough that you can just leave them in for penetration play (without the holder). This is where they really shine. Having them loose with an insertable toy or a partner, allowing them to roll and jounce about, is unique. The sensation is memorable, and no k-balls I have ever tried fit this purpose quite so well. You will have to wait to get them back afterward, but they can't get past the cervix and glass is inert and body safe.
They are not anal safe (alas), but the two things they do, they do really well. Pretty much anyone with a vagina can find a use for this simple set. A third point in their favor is that fact that the price point puts them at the forefront of the Affordable for Beginners Parade.