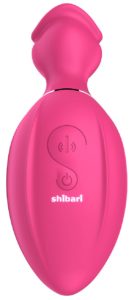 There has been a lot of fuss lately regarding clitoral pumps.  As this topic has ever been near to my heart, I am absolutely delighted!  When it comes to this newest trend, it's the Womanizer and Satisfyer you are hearing the most about.  That pair is not what I have in mind for you today, however.  Today we are talking about Beso, by Shibari.  Though it does fall into this category of clitoral scution, it really fills a niche all its own.
Beso is NOT a Womanizer or Satisfyer. It works on similar principals, but the end result is very different. The Beso is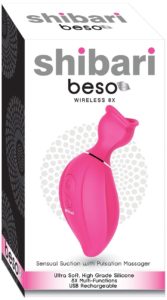 not a finisher. Truthfully, I could not promise that it is going to bring anyone to orgasm on its own. What Beso does do is provide a lovely and unique sensation while setting the stage for amazing sex play afterward. Exactly like a penis pump, Beso provides a gentle firm suction that draws blood into the erectile tissues of the clitoris. The result is hyper engorgement and powerfully increased sensitivity. The "mouth" of Beso is large enough to easily encompass both the of both glans and clitoral shaft, so you have no pinching against the sides of the cup (a problem that can crop up with some other pumps if your clitoris is larger than average). The straight suction options are virtually silent, though the patterns make a soft clicking sound. The longer you play, the longer the increased size and sensation will last. I'd say at least two minutes, but not more than ten is a safe guideline for best results. Once foreplay has moved into the quest for orgasm, disengage from the unit and anything you do after will be bomb blasts and rocket bursts. Even the least of disposable bullet vibes will rock your world once Beso has set you up for success.
Long story short, Beso might not make you climax, but whatever happens afterward will. And then some. Maybe some more after that, too.