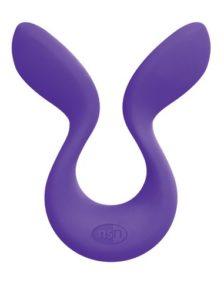 There is very little in the world of toys that gives me more personal satisfaction that a tool that encourages creativity.  The Uphoria, by NS Novelties, makes no assumptions regarding sexuality or gender. The shape is abstract enough to hint and a host of uses, while insisting on nothing. The official description from NS Novelties calls it "Anatomically Adjustable" and I could not sum it up more concisely myself. I see a dual simulator (vaginal/anal, vaginal/clitoral, anal/scrotal), glans ring, vibrating couples ring, vibrating ball stretcher, just off the top of my head. I see the option of pin-point or blunted vibration (or both at once). Alone or with friends, no matter the gender or anatomy of those involved, the Uphoria has something to offer. Beyond my passionate love of the function, the construction is as much of a marvel as anything else I have loved from this brand.
The body is satiny soft, beautifully flexible silicone. Vibration from the two rumbling motors (one in each tip) travels through the entirety of the device. There are, I have read, ten patterns vibration…but I rarely get past the third setting (high steady vibration) on my own, so I cannot swear to that. The motors are deliciously thumpy, so any extra settings are pure icing, when all is said and done. The Uphoria also has the convenience of a rechargeable motor and water resistant body.
TLDR? Uphoria, very literally, has something to appeal to anyone.