This week, I would draw your attention to the Renegade Ribbed Sleeve.  It is a very simple toy in both function and design, but there is still a world to explore.  Now, just how this toy is put together? Start with super soft TPE, a material that is body safe, comfortably soft, and easily accommodates a wide array of bodies. Aforementioned TPR is also clear. It doesn't sound like much, but the ability to see a flesh and blood penis inside the toy adds a spice all of its own.   The Renegade also sports a scrotum strap for the dual benefit of secure fit and extra tug and grip for the driver. As such, it's nearly as much fun alone as it is with a friend. As if that is not compelling enough, this sleeve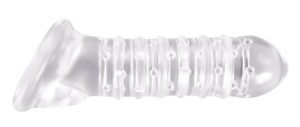 offers a mix of internal textures.  Add a slick of waterbased lube and this is, in essence, a masturbation sleeve that straps on and goes with you. There is no place in my heart for a wearable that would make the driver sacrifice sensation for the other benefits.
I also want to ask, and answer, why someone might use a girth gainer in the first place? The easy answer is added size, but that is the least of what they are useful for. I have used many tools and I have hear the experiences of many people and that is not the most common theme.  Of all of the assets that girth gainers offer, I think the greatest is in variety. Really, with a single item a couple can completely change sensation for everyone involved. Think about the applications here. You've been monogamous for twenty years and want to mix it up without involving anyone else. You want to role play as strangers with a familiar lover. You have the passenger bound and blindfolded and you want to play the part of two partners all on your own. If you have an active imagination, you can do some pretty amazing stuff with this one simple tool. It doesn't have to be about Big as much as Different. I mean, Bigger sleeves are out there, but that's only one benefit to this type of toy.