Blush Novelties has always had a knack for providing a great value for an into price point without a lot of fuss or gimmicks.  Over the last two years though, they have reached far and beyond that niche with improved motors, construction, and extended warranties.  At the fore of this transformation was the Nude Impressions series.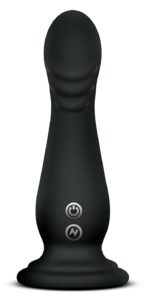 First, I would draw attention to the material that Nude Impressions are crafted in. Solid, dense, velvety, plush, amazing Blush Silicone from tip to base.  (I have a special weakness for Blush silicone, it is a company specialty.)  Even the control buttons are cast, all of a piece, into the unit making the line not only waterproof, but really easy to clean.  There are no undercuts or harbors for bacteria or other unwelcome debris.  The base is wide, sturdy, and simple, making the whole line anal safe, harness compatible, and allowing for a fair degree of suction.  As is expected from modern high-end, the whole Nude Impressions family are rechargeable and covered by a five year warranty.
That is all icing.  We all know that, when it comes to a vibrating toy, the motor makes or breaks the deal.  Nude Impressions offers up a trembling rumble unlike anything Blush had ever released before or quite duplicated since.  This thump easily travels the length of the toy, even though it is focused in the tip.  If you like internal, broad external, or focused external vibration, this device can accommodate.  This line offers the power of an external simulator in something big enough to really hold without numbing your fingers. Or stick to a wall. Or put into a harness. This is important news for anybody.
Full disclosure, the Impression line isn't completely perfect. The buttons are rather sensitive,  I have turned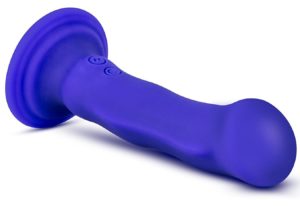 mine off by accident before.  That is the only negative I can really offer, though.  The company specs claim the play time is kind of short (40 minutes for a full charge) but it's so powerful that the short play time has never caused me any trouble with the 01 I have at home.  Considering the power of the motor, the quality of the silicone, and the length of the warranty, I can deal with an accidental pattern change or two.