The Colours family from NS Novelties are a solidly built, non vibrating, line of representational dongs, equipped with a sturdy suction cup base.  I will admit, that doesn't sound like much of anything new or different, but there is a reason I chose them for today's spotlight.  In addition to the array of bright shades the name Colours would imply, the quality of materials and construction truly sets this family apart.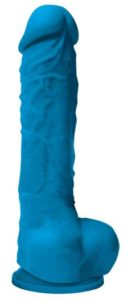 First out was the Colours Pleasures line with it's extra firm silicone.  Many will find the need for a bit of warm-up to accommodate the larger sizes in this density, as it is rather unyielding.  Not so solid as glass or steel, perhaps, but firmer than most silicone on the market. This density offers an increased illusion of fullness beyond physical size. It also translates vibration like magic, should you hold a vibrating item against it.  This is not to imply that it needs vibration, it's just something to keep in mind. After the Pleasures line proved itself, Coloursoft came to the market. Once more, you have the durability and easy care of silicone, but so much softer. Compared to the solid and imposing mass of the Pleasures, the Coloursoft is like a hug. With the much softer silicone, rougher play and larger sizes are more easily accomplished. There is no shame is staying with gentle, however. That is why this style was added to the mix.
Aside from sculpt and shades, one other aspect that these series share is a truly remarkable suction cup.  Yes, many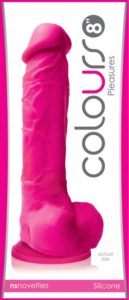 dongs have a suction cup, but few are like the Colours. I have seen them displayed in glass cases, suctioned sideways or upside down.  I have, accidentally, lifted a glass side table out of the frame before.  It's not just enough to hold it them to, say, a shower wall they also hold to each other. Oh, yes, any two Colours are a double dong waiting to occur*. You can mix the sizes and that trick still works. Luckily, they are well priced enough to make buying in pairs a viable option. Clean up is also laughably easy for both finishes. As silicone is naturally non porous and the texture of this series, while artful, is subtle all you need is the simplest of spray-n-rinse care.  No motor means no batteries to fuss with or cords t0 keep track of.  Colours are both versatile and easy keepers.  Coming in sizes from 5 inches up to 8, it's an adventure to find the perfect Colours, just for you.
*(Our sales representative with NS Novelties made the instant double dong technique part of her training  after I demonstrated it to her.  Learning this was one of my proudest moments.)