I would like to introduce you to the Swan Wand and the Swan Wand Mini from BMS Factory.  While not new, they absolutely deserve to be spotlit.   Any of you that may have seen a Swan out of the box know exactly why I would say this.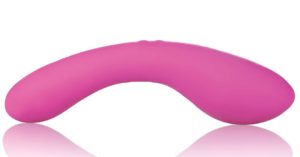 What comes to my mind first, when I sit down to think about the Swan Wand?  "Finally, here is a wand style massager with 100% play area."  There are no plastic bits, weird edges, strange seams, or other impediments to creativity.  To up the ante, both the handle and head have their own motors.  This allows you to swap sides, harmonize vibration (set the two ends at alternate patterns to make the whole length throb in addition to vibrating), or whatever else you might think to make of it.  Either end is safe for vaginal penetration, though I would caution that the larger end may be too large for insertion with some users.  Either side, however, is perfect for external stimulation of any kind, and it has enough speed and pattern options to offer value to most anyone regardless of gender or anatomical configuration.  Both motors have independent controls (harmonizing, I cannot stress it enough) and a travel lock feature to avoid strange looks over a rattling gym bag and preserve your charge when not in use.  Yes, indeed, the Swan Wands are rechargeable.  Charge up, travel lock on, and Swan will be ready when you need it.
Note that I have not yet mentioned power.  I had seen the independent reviews of the Swan Wand and I had read about the motors.   The curiosity that those reviews aroused is a large part of why I brought the Swan into Fantasy For Adults Only.  I felt they had to be at least partly exaggeration.  "revved up like a Harley" and "earthquake in my vagina" are both direct quotes from reviewers that I follow.  That has to be at least partly hyperbole…right?  Press both buttons and hold for five seconds to turn off the travel lock.  Press the button corresponding to the massager head.  I understood immediately.  The bulbous end really does rumble like a passenger vehicle (without making a lawnmower noise).  I could see my hands shaking as I held the thing.  Would it hold up to pressure?  So many "powerful" toys mute into nothing when held tight against the body.  The Swan Wand does not have this failing.  Pressing as hard as I could into my palm shook my arm up to the shoulder, but did not dampen the rumble.  The slimmer handle end doesn't have the same penetrating thrum, but it is still very respectable.  As one would expect, that persistent power performs far outside the scope of making an arm shake, but that goes without saying.
To wrap up, I would like to offer a few words about the Swan Wand Mini specifically.  This thing is so cute!  I literally squealed in delight when I first saw it in person.  It is both tiny and adorable.  Not the same kind of rumble and the full size boasts, but still much more than one would expect of something so little.  The Mini also shares all the attributes and advantages of being waterproof, 100% play area, and rechargeable.