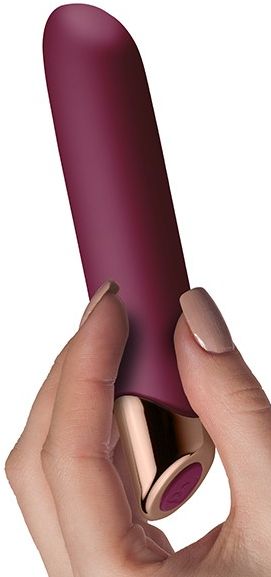 Friday Focus: 11.01.19
If you have ever looked at your favorite bullet vibe and wished it was more…well…more? If so, Chaiamo from Rocks Off could easily be your answer. The shape and controls are classic bullet vibe from the single button control on the base to the gently beveled tip. It is perfectly intuitive to control, press-n-hold for on/off and a single press to cycle (a mix of 10 speeds and patterns). As one would expect from a high-end bullet, the materials are a body safe combination of ABS and silicone. The surprise is the fact that this bullet is just over six inches long.
Once you get over the shock of the size, there is the motor to consider. Once Chaiamo is on, there is no way to mistake it. It is louder than most devices, full disclosure there, but it has power to rival a full size massage wand. There are very few people that would not forgive the audible rumble after considering the power it brings with it. No exaggeration, holding Chaiamo in my hand makes my upper arm visibly shiver. No joke or exaggeration. The device is also rechargeable and submersible with up to 3 hours of run time.