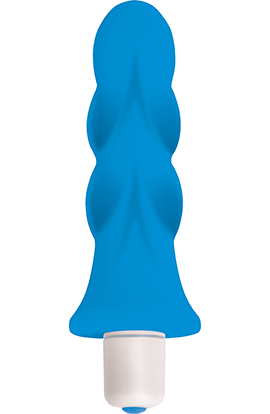 Friday Focus: 11.08.19
The Gossip Minis from Curve are a unique situation. The Gossip line spans a variety of shapes, sizes, and designs, but it's the Mini Vibes that I want to talk about today. To start, let's look at what all three shapes have in common. The aspect that originally caught my attention was the perfect sweet spot of material quality, price point, and the fact that the bullet motor is removable. Those are good traits for any toy, but they are especially valuable in a travel partner or a first time vibe. The silicone body is easy to clean and durable enough to roll around a gym bag. The removable motor means that when a Gossip Mini dies, they can easily be reborn with the application of a new bullet. Same deal if you just want to swap out the default bullet for something with other options. Want something stronger, rechargeable, or remote control? All you need to do is buy a new bullet. Other than a cutting edge,m there is very little that can damage the silicone sleeve. If you want to stay with the vanilla rig, you still have a solid mid-power vibe that takes traditional AAA batteries. It's also quiet enough that a room with thin walls is no challenge.

Shape is where the individual personality of each Mini comes to light. Tease has light ribs (for texture or grip) and a lightly pointed curved tip to focus the vibration. If you like pin-point focus, Tease may be your answer. Excite is more whimsical than I normally choose, but sometimes you need a friend. The "ears" aren't just cute,either, they are offer function. If you are a fan of "enclosing" a clitoris in vibration, take a look at Excite. Charm is the most classic in styling, with two rows of gentle swells curving inward toward the tip. If simple and elegant is your thing, you may need Charm.