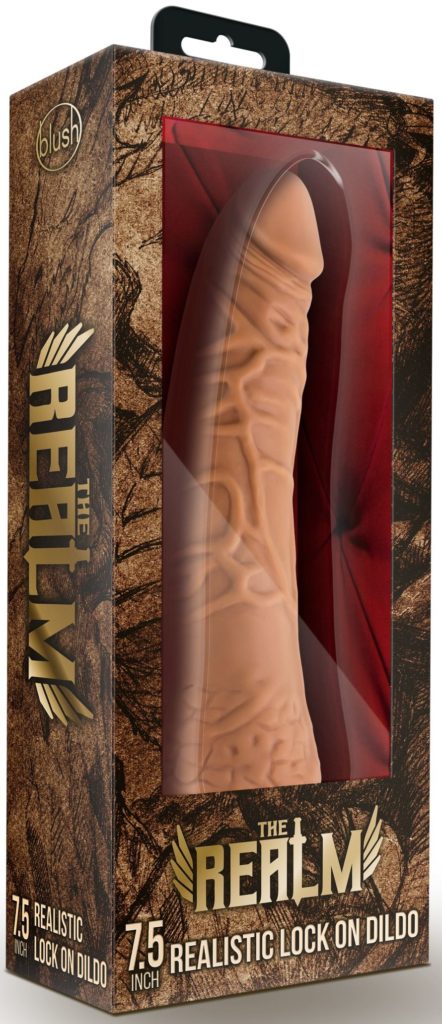 I am excited. I am a foolish and doing stupid dances kind of excited. The Realm line is finally here. I doubt, even as verbose as I can be, that I will be able to adequately convey the depth of passion I feel for this line. Well, maybe the people that saw me dancing might get it. (Because yes, that literally happened.) In short, The Realm is Blush Novelties' venture into plug-and-play dongs. "Lock-In" is they term they use, though it is compatible with Doc Johnson Vac-U-Lock items (I checked with my own hands). More than that, it is fantastical in theme and design. While we don't have the entire line on our shelves just now, we have the hilt (handle) and two blades (dongs) to mix and match and I hope to expand over time.

First, let me talk about the blades. Realistic 7 is the most standard item in our sampling. It is a fairly standard phallus, though it does have exaggerated veining for texture, along with a raised corona. The skin color is lovely and warm as well. It would be a great dong even if it didn't have a lock-in cavity to add versatility. Blush silicone is, as always, soft and plush with a lovely amount of flex and play. Things start to go sideways when you meet Draken. This beast is made of magic, fantasy, and over-the-top texture. Part cyborg, part dragon, and all beautiful, Draken was the reason I brought in this line in the first place. It has the same lovely velvet silicone as the Realistic, but the texture is simply spectacular. It is also compatible with a traditional ring harness, if you are of a mind. Both blades have a hollow in the base to fit onto a Lock-In (or Vac-U-Lock) plug. If you have no need for that, that is the perfect spot to add a vibrating bullet. Now, here you have two beautiful dong for this new system, but what does it attach to?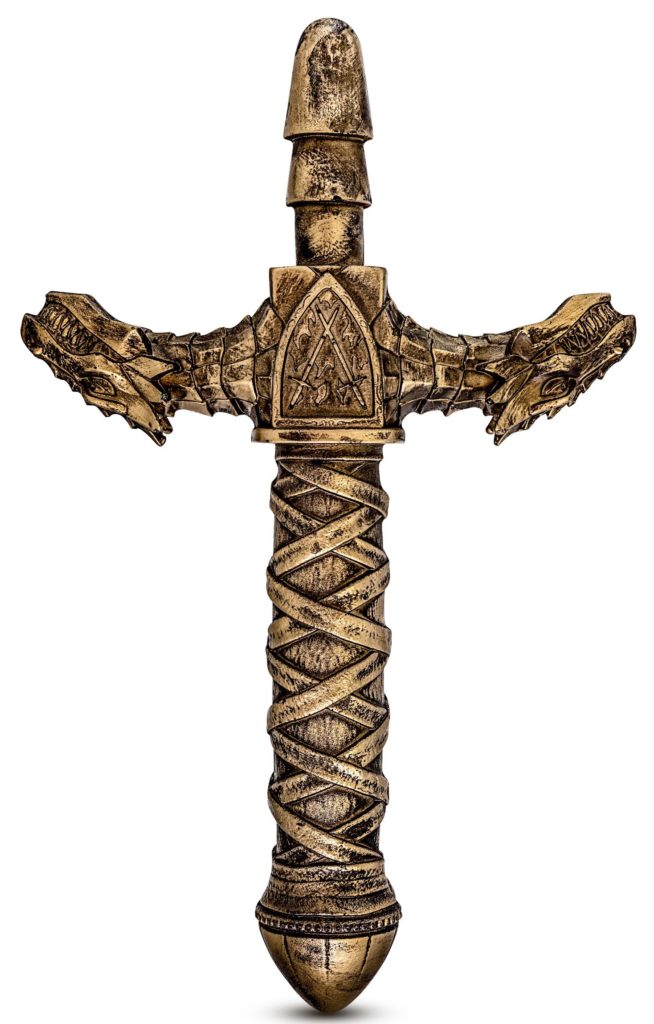 The anchor of the line is Drago, the hilt. When I say hilt, I mean that literally. The Lock-In handle on this new line is fashioned like a sword hilt in true high-fantasy style. Combine the hilt with one of the dongs, and you will have the best sword ever in the history of sexual role play. The thing is, it is also completely functional. The "wrapping" sculpted into the handle offers a sure grip for any sword arm and the hand and a half length could find a home in any size of hand. It is a little weighty, but that makes the balance so no harm there. As for the detailing, it is a delight. If you have ever enjoyed fantasy stories, role play, or video games, the motif will delight you. [I do want to say, the polyurethane it is crafted from is NOT body safe. If you absolutely have to use it internally, for whatever reason, a condom is an absolute necessity. Urethane isn't toxic, but it is very porous. You simply can't effectively sterilize it. It's fine for the hand, not for your insides.]
And there it is, the intro for Blush's new line. Lock-In plugs, gilding, fantasy, magic, and dragon penises. The hilt is certainly the showcase part, but the dongs alone would be worth having.