Friday Focus: 01.28.22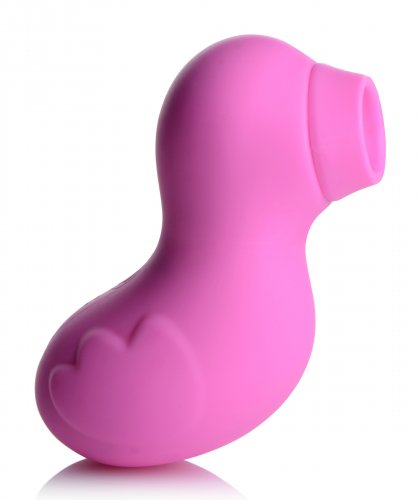 Slowly, but with certainly, air pressure toys are clawing their way onto the market. While none, in my experience, have come to match the original Wow Tech devices, several have managed to stand up on their own merits. Most earn note by doing more…but there is one item that won me over by doing less, really well. I would like to thank XR Brands for giving us the, absurdly named, Sucky Ducky.
To start, Sucky Ducky is neither of those things. Maybe it looks a little like a duck, though stylized enough to get past my personal aversion to animal shapes on sensual tools. It does not suck, however. Ducky uses the same fluctuation of air pressure to deliver focused stimulation that I have come to know and love. It is really simple in operation. One button runs you through on/off and all seven settings of intensity. In this, Ducky hits the sweet spot between simple controls and cumbersome to navigate. Only a few clicks can get anyone where they want to go, and allow for easy escalation once there. The jumps between settings are shallow enough not to be jarring, while still having a wide span from low to high.
With the lack of moving parts and the super compact size, this little tool is, arguably, the best travel toy I have ever come across. And not only does it slip into your travel bag, it's submersible, so it can follow into the hot tub or get tossed into the sink to wash. It is rechargeable, though, so don't forget to pack your cord!
To draw all that together, Suck Ducky's skin is silicone for body compatibility and durability. It's also really cute with it's hint of an avian shape, looking right at home with bath supplies. The aspect that does it for me, personally, and cements it in my mind as an ideal travel pal, is the price of admonition. Ducky comes with an easy introductory price point that still brings with it a five year warranty from the manufacturer. At the end of the day (at home or on vacation) Ducky has a low bar for investment, but comes with a whole lot to back it up!