Friday Focus: 02.12.21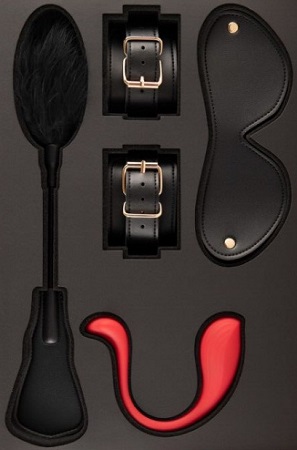 In the Neo BDSM Gift Box from Svakom, we have another great all-in-one gift idea for the season. This kit is nicely themed, well put together, and is gift ready. Inside the box is a nicely made starter blindfold with matching wrist cuffs. A short chain complete with spring clasps on either side can be attached as you wish. Next up is a dual sided mini hand bat with crop style end on one side and a feather tickler on the other. As a centerpiece is a Svakom, Phoenix egg vibe. It's not just any Phoenix, it's a Phoenix NEO.
The Phoenix is a cleverly built bullet vibe, to start with. The "cord" is fully enrobed in a substantial silicone tail, making it safe to use vaginally as well as externally. The controls are intuitive, a single button for On/Off as well as function cycling. The vibration is not super strong, but the pre-programed patterns are quite good (high praise from me). It even has an LED built into control end of the "tail" to give a clear visual indication of what is going on if it is inserted. Why is that so important? That is where the Neo part comes in. The tag "Neo" indicates that a Svakom toy that is part of the Connexion series, bluetooth enabled and Svakom app compatible. The app is absurdly simple to use, letting you select a setting, free style a pattern, use sound picked up from the mic, or the beat of music on your device. There are a lot of negative reviews about signal dropping, but I didn't run into any snags.
So, how does app compatibility tie this kit together? You can tease over dinner and do home to use the restraints or you can do some interesting things with no contact sensory play. More, this kit magically becomes pandemic safe…if you don't mind snapping the restraints on yourself (easy to do with the spring clasp chain). This kit is not built for "serious" restraint, but it has everything you need for some truly engaging games of power exchange.