Friday Focus: 02.14.20
It is well established, in my opinion, that the entirety of the Cal Exotic Scandal line is lovely. That said, there is something especially compelling about their corset-back strap-on harness. Is it the aesthetic? The tinted nickle free hardware? The sharp contrast of red and black brocade? Perhaps the sum of all of those aspects? The attention to detail is meticulous and provides for profound visual appeal. It's not just pretty, however. Every bit as much effort went into function as was poured into form.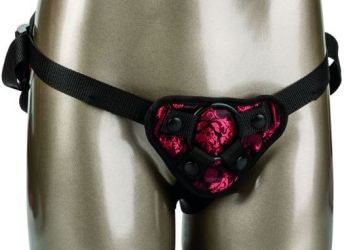 Let us begin with the lushly padded back support. It is not overstuffed to the point of being bulky or awkward, rather it offers a firm yet plush embrace. The extra width of the back is also a bonus, providing a firm and comfortable base to hold the whole show together. This is especially important to fuller figures. The wider and thicker of a back anchor you have, the less likely your rig is to slip or roll out of place. The back and thighs are highly adjustable, as is common to this general style of harness, to make certain that the harness hugs without pinching. Even the extra wide ribbon used to lace up the back has hidden assets. It not only looks lovely, but it will hold up well, keeps a knot better, and is still easily replaceable should you choose to do so. Also important, to me personally, the pelvic piece is removable (for use with double-ended units), with complete and careful reinforcement to each strap slit to ensure hard use will not affect your function. The Scandal harness even has loops to attach garter straps (no garters are included, but the loops are there).
In short, if there was something that could be done to make this harness stay on better, fit more bodies, fit those bodies more securely, or accommodate a wider array of tools, that thing was incorporated into the design. We have many excellent harnesses in our stores, but this one has the widest potential audience. All of these things it does while remaining absurdly pretty. All in all, the Scandal Corset Harness would be a great choice for almost anyone that wants to tie one on.