Once upon a time there was a London based company with a cute French name. From the start, they made it their mission to destigmatize sex play with the power of education. Incorporating in 2005, their first original toy was released three years later in 2008. It was this debut device that snapped up the Outstanding Innovation award from AVN in 2009. Their products are, as a rule, made with a heavy emphasis on maximum function with minimalist styling. If you've not puzzled it out just yet, we are looking at Je Joue.
As of today, we have several Je Joue products on our shelves. One can find series like Classic bullet, Rabbit, and Gspot. You will also see the dual stimulators Fifi and G-Kii (I know I should have favorites, but it's G-Kii). If you like a single motor external simulator, Mimi has a great deal to offer. Penis owners (and those that admire them) might even seek out Mio. None of those are our specific topic. Today I am holding up the sparkling new Hera.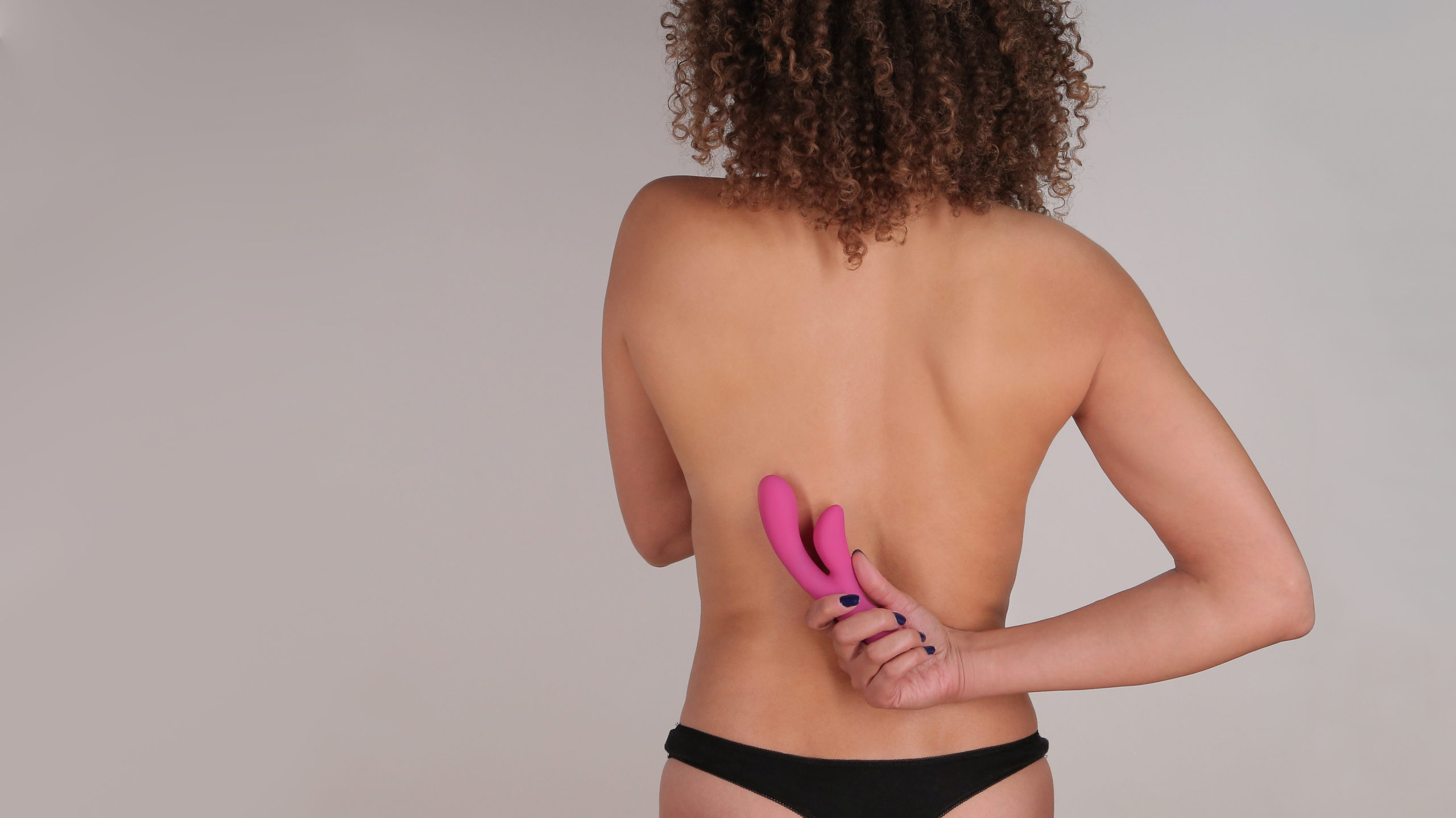 Hera is a sleek and streamlined dual simulator. The overall size is decidedly petite, only seven inches if you include the handle that houses the control array. The internal arm comes in at only four inches, starting narrow and flaring into a classic Grafenberg bulb. The entirety of its length is reinforced under the satiny silicone skin, all the way through the handle. Because of this, the wielder can make full use of every inch without the device bending awkwardly or flopping out of place. The broad external arm, however, had full range of motion. Someone looking for girth would pass over this tool, but the combination of the compact size and the resting angle of the external arm is fairly ideal for most anatomy if you are looking to use everything Hera offers all at once. No cervix stabbing or external arms that can't reach.
There are two motors under Hera's skin, one resting in the end of the internal arm and a second that takes up the entirety of the external protrusion. Looking to the control array, Hera has an easy three button spread. Closest to the external arm, (+) is On/Increase, (~) cycles patterns, and (-) covers Off/Decrease. While you can control the power behind each pattern, the motors themselves are not independent. A little given up in customization, but the reward is ease of control. Hera's motors give up to an hour of run time from a full charge leaving the user plenty of time top experiment. I also found, that the "shelf life" of the charge when the toy is off and stored is noteworthy. My own was set aside for several weeks at one point, but it fired right up to full power without any appreciable charge loss. My favorite highlight, however, is the lack of sound. The motors are absurdly quiet. I can hear that it is on in a quiet room, but with music on, I couldn't hear it at all. Thin walls or roommates make this a very attractive feature.
Also on its way is Juno. This tool has the same basic outline as Hera, but without the external vibe. The version we selected is the "Flex", so our Juno will not have the reinforced length, allowing it to bend and flex.