There are two schools of thought when it comes to vibrators and convenience.  One group likes a rechargeable vibe.  No batteries to buy, no battery packs to fill or fumble with.  All you need to do is charge and go.  The other side has equal, if very different, arguments.  Who wants a vibe to die at an awkward moment, then have to wait for a charge?  With batteries, you can swap out in a pinch and get back to getting off.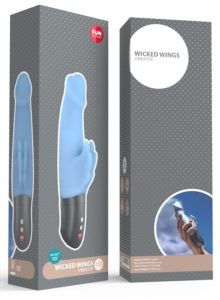 What if you could have both?  I am pleased to highlight the Battery Plus vibes from Fun Factory!  Specifically, we have the Darling Devil and Wicked Wings (though I hope to add more should this pair find favor with the public).  This clever line of mini vibes runs on standard AAA batteries.  Or, if you prefer, you may buy the hybrid kit (a $20 upgrade) to give all the conveniences of a rechargeable, including a Click-&-Charge cord.  That is correct, if you put the branded rechargeable batteries into a Battery Plus, you can charge it magnetically like any other Click-&-Charge toy in the Fun Factory family.  If those rechargeable batteries run dry at an inopportune moment, you can toss in the batteries you just stole from the TV remote to get to the finish line. Once your mission has been concluded to your satisfaction, put the batteries back in the remote, put the hybrid batteries back in your toy, and plug it in to charge for next time.  No one will be the wiser.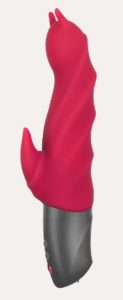 As for Fun Factory, in general, they have a well deserved reputation for quality in construction, clever design, and materials.  In fact, Fun Factory is documented as the first company to use silicone in a sexual device, so they've had many long years to perfect their technique.  The Plus line is a shining example of all these traits!  Even if they didn't have the conversion ability, these are shapes anyone would want on the bedside table.  All the more because that hybrid motor will rumble in the very best way, no matter what type of battery you have in at the time.  They are also submersible, so they will faithfully join you in the shower or hot tub.  You'll have no trouble multi-tasking in that shower, either, at they come with the easy – + FUN button array that only takes one thumb to drive (and just two fingers to activate or deactivate the handy travel lock).