A little back-story is needed for this one.  Once upon a time there was a company called LAID.  LAID was the brainchild of an architect in Norway, Line Iren, and Karianne Ronning, a student of business.  As a company, LAID made a name for themselves with clever non-vibrating pieces that wed the idea of sexual wellness with modern industrial design and a keen understanding of anatomy.  The results were stunning in both visual beauty and outstanding in function.  There was a short, but beautiful, moment in time where LAID was adopted into the We-Vibe family.  Of that brief and shining union, Rave was born.

Rave is basically a LAID D.1 (an astounding collection of asymmetrical curves, bends, and edges) powered by the best of We-Vibe technology. The style was originally crafted to apply a maximum amount of internal pressure with a minimum of effort (with an eye to G-Spot hunting) and a maximum amount of sensation.  Take the soothing lines of the D.1, add a lush silicone skin, then build it onto an unyielding core (that holds echos of the stone LAID likes to work with). It rests in the hand very naturally, caresses the curves of the body, and the unusual mix of shapes offers a wide variety of options for stimulation, both internal and external. This is even before you hit the power button. Once you do get around to hitting the switch you will find the same sort of unrelenting thumping vibration one associates with the We-Vibe Tango or Touch. The solid core conducts this persistent vibe from end to end with an intensity that actually surprised me.   No matter if you are looking for internal or external stimulation, this device will deliver.  If you would rather not fuss with the buttons, Rave also responds to the We-Connect app.  Really, you can forgo turning it on at all, as the shape and material is a sensory feast without any power at all.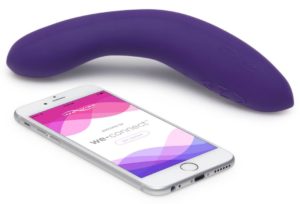 Certainly, the Rave won't be for everyone, due to the lack of flex. There are some that want a toy to bend, and that is perfectly okay. Anyone that likes glass or steel, however, absolutely must consider this charming piece of functional art.  The same is true for any devoted Grafenberg hunter.  Rave is water resistant, under a manufacturer's warranty, 100% play area, and rechargeable; all of the extras that one would expect from our friends at we-Vibe.