Friday Focus: 12.03.21
I have strong feelings about strap-ons, as one may have guessed based on previous topics. When sorting through some of those previous highlights, I realized that I had missed one of no small importance. I have held up XR Brands, Strap U in past as an example of innovation in the realm of "strapless" strap-ons. Today we are going to look at the Sharevibe from Fun Factory.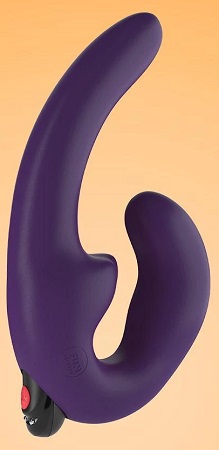 One of the most distinct features of this silod silicone double ender, is the shape of the Driver's side bulb. Rather than the "egg on a stick" style (good for some anatomy, but limited) it has a crooked thumb shape that is a great deal easier to hold, even without iron banded Kegels. This is, very literally, designed to grip the pelvic bone from the inside out. In addition is it neither too long or two girthy, giving a better fit to a wide array of bodies. The next step outward brings us to the external clitoral wedge. This structure is placed directly above the cavity for the rechargeable and removable motor, sending power to where it is best used for Driver and Passenger alike. The projection also acts with the internal arm like a pinching thumb and finger, to better grip the Driver's body. While not perfectly placed for everyone, it is a great deal more generous than most others when it comes to actually delivering clitoral contact.

Sliding down to the Passenger's seat, the projecting shaft is both smooth and slender. The conservative dimensions make it ideal for anal adventures or partners that are less used to penetration in general. The shaft does not offer much in the way of length, so thrusting is limited, if used without accessories, but it does force a closeness than absolutely has a place in many scenarios. If, however, one has interest in length, girth, or texture, these can all be easily achieved. Any sleeve that fits over a penis will serve Sharevibe just as well. All the better, with a model that offers a scrotal strap, as that hooks around the bullet for added stability. By pulling a sleeve down far enough to cover the external wedge, you can even fill in the gap for even more direct clitoral contact. (My personal choice for augmenting Sharevibe is the Perfect Fit, Fatboy!)

Used as is or made into a DIY custom, Sharevibe offers a great deal in the way of design. As with any "strapless" design, it can be paired with a simple ring harness (one without a base) to add some extra stability for more enthusiastic encounters.