Friday Focus: 10.16.20
My topic this week was was brought to you my real life events. Recently, a personal friend of mine started a quest for a remote control toy that is both internal and external, but was not a We-Vibe. This reminded me of a toy that had only just arrived, Cal Exotics' new offering, the Silicone Remote G-Spot Arouser. Since I had to research it anyway, I figured I would share my findings.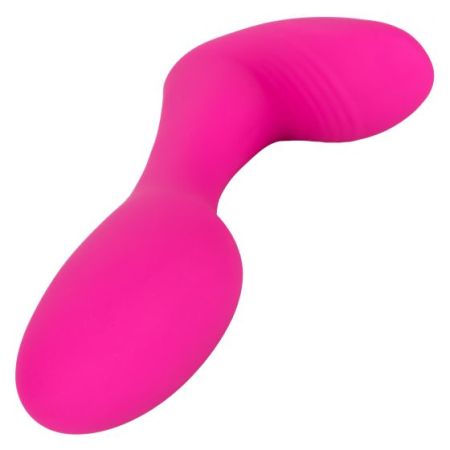 The Silicone Remote line is not new to us, and sales numbers tell me that it has been the answer to many people's Date Night needs. For an overview, the whole family offers a silicone skin, is fully rechargeable (including the remotes), has a remote reach of about 30 feet, and offers multiple speeds and patterns. They also have a one year warranty direct from Cal Exotic and will pair with the Wrist Remote band if you want something a bit more subtle to control it with when out and about. They can also be used with or without the remote, so you are not limited to one mode of play.
Now, to the G-Spot Arouser specifically. Like the Pinpoint Pleaser, it has a dual stimulator set up in terms of shape. Where Pinpoint has the thin internal shaft and roller ball, Arouser has a more generously sized, and beautifully shaped, G bulb. The size and curve of that interior bulb is, for many, a huge asset in keeping the toy in place, especially if the wearer is up and active. Adding to the Date Night theme, the toy is very quiet over all. Maybe don't use it in the library, but you won't hear it through the background hum of you average restaurant. Truly the only thing Arouser could use more of is bass in the vibration. While the speed is great, it gets a bit thin towards the end of the clitoral arm. The lightly textured arm will offer some stimulus on its own, however, so it remains a strong option even with a softer vibe.