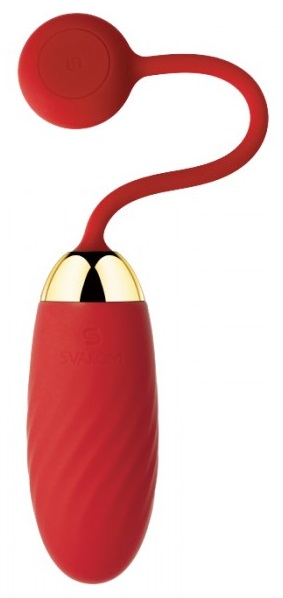 Friday Focus: 05.14.21
It seems I am not yet finished being excited about socially distanced sex. This week, we are moving from Lovense and into the world of Svakom. We touched on the Neo line, Svakom's app compatible tools, when we looked over the Phoenix BDSM box set. Today, though, we are looking specifically at the Neo Ella.
Overall, Ella is a very device. It has basic "egg" styling with a silicone skin and a tail strong enough to act as a retrieval cord for internal (vaginal only) use. The end of that tail houses your on-device controls and bluetooth receiver. The Svakom app that the Neo line plugs into has setting for for in person remote control or long distance encounters. Either means of control has a selection of preset patterns or control on the fly, including sound reactivity or following the beat of music on your device. As for my personal favorite aspect of Ella, as a whole, it was pure icing and not part of the deliberate intent. The size, shape, and weight give lovely resistance for Kegel exercises!
As for the insides, Ella doesn't have the most thundering of motors, but it does have a wide range between low and high to play with and a good pitch. Operating the toy is simple and intuitive, with either the physical controls or the app. The thing that really surprised me about Ella, and the Neo line by extension, was the quality of the pulse patterns available in the app. Completely unprecedented, I found myself preferring patterns 4 and 5 to the solid vibration. Believe me, I never thought I would write a sentence like that one, either.