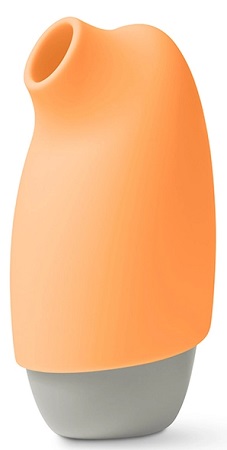 Friday Focus: 01.07.22
The best toy just got better. That I adore the Lora Dicarlo, Carezza is not a secret. I've written about it twice already, both in a review of my favorites in general and a specific in depth review. I know, it's been covered. What has not been covered is the new accessory that Carezza now includes. Hello, Air Sleeve.
If you remember the Zalo Queen, you know how the Air Sleeve works. The sleeve is tightly fitted over the body of the massager, with a cutout curve to reach the full array of controls, create a seal with the sleeve, the only outlet being the clitoral cup. As Carezza works on percussion, displacement is, very literately, what it does. As displacement of air, rather than suction, is what makes air pressure toys what it is. Put that device into a silicone skin like this one and the pressure inside will pull and release in a fashion very similar to the Baci or Ose. Considering how vigorously Carezza moves, the redirected stimulation is intense. Intensity that can be controlled with the same minute finesse as base unit. Now, as a result, the highest power toy, also the best percussive toy, can also be an air pressure toy, with a single silicone cap. That is what I can versatility!